特邀主旨报告
Keynote Speech
Title: Distributionally Robust Stochastic and Online Optimization
Speaker: Yinyu Ye, K. T. Li Chair Professor, School of Engineering, Stanford University
Abstract: We present decision/optimization models/problems driven by uncertain and online data, and show how analytical models and computational algorithms can be used to achieve solution efficiency and near optimality.
First, we describe the so-called Distributionally or Likelihood Robust optimization (DRO) models and their algorithms in dealing stochastic decision problems when the exact uncertainty distribution is unknown but certain statistical moments and/or sample distributions can be estimated.
Secondly, when decisions are made in presence of high dimensional stochastic data, handling joint distribution of correlated random variables can present a formidable task, both in terms of sampling and estimation as well as algorithmic complexity. A common heuristic is to estimate only marginal distributions and substitute joint distribution by independent (product) distribution. Here, we study possible loss incurred on ignoring correlations through the DRO approach, and quantify that loss as Price of Correlations (POC).
Thirdly, we describe an online combinatorial auction problem using online linear programming technologies. We discuss near-optimal algorithms for solving this surprisingly general class of online problems under the assumption of random order of arrivals and some conditions on the data and size of the problem.
Bio: Yinyu Ye is currently the K.T. Li Chair Professor of Engineering at Department of Management Science and Engineering and Institute of Computational and Mathematical Engineering, Stanford University. He is also the Director of the MS&E Industrial Affiliates Program. He received the B.S. degree in System Engineering from the Huazhong University of Science and Technology, China, and the M.S. and Ph.D. degrees in Engineering-Economic Systems and Operations Research from Stanford University. He is an INFORMS (The Institute for Operations Research and The Management Science) Fellow since 2012, and has received several academic awards including the winner of the 2014 SIAM Optimization Prize, the inaugural 2012 ISMP Tseng Lectureship Prize, the 2009 John von Neumann Theory Prize, inaugural 2006 Farkas Prize, the 2009 IBM Faculty Award, etc.. He is the Chief Scientist of one of the major commercial international optimization software companies.
Title: The Big Data Revolution: Opportunities and Challenges
Speaker: Tony Cai, Daniel H. Silberberg Professor, The Wharton School, University of Pennsylvania
Abstract: The explosive growth of Big Data and the emergence of data science promise to revolutionize industries from business to healthcare to government, and to change how we work, live and communicate. In this non-technical talk, I will discuss a few interesting problems to illustrate the potential benefits of Big Data as well as some challenging problems in the analysis of Big Data. The high demand for data scientists in a wide range of fields require substantially expansion of data science/business analytics programs in leading universities/business schools.
Bio: Tony Cai is Vice Dean of the Wharton School, Daniel H. Silberberg Professor of Statistics at Wharton School, professor of Applied Math & Computational Science Graduate Group, and senior scholar at the Department of Biostatistics, Epidemiology & Informatics, Perelman School of Medicine, University of Pennsylvania. In 2006, Professor Cai was elected as a fellow of the Institute of Mathematical Statistics. In 2008, he won the COPSS Presidents' Award — an award regarded as "the Nobel Prize" of Statistics — by the Committee of Presidents of Statistical Societies. In 2017, he was elected to the presidency of International Chinese Statistical Association (ICSA). He served as the editor of Annals of Statistics and has served on the editorial boards of many academic journals.
Professor Cai earned his PhD in Statistics at Cornell University, where he studied under Lawrence D. Brown, a member of United States National Academy of Sciences. Professor Cai has focused his research on Big Data Analytics, including the areas of statistical inference on high-dimensional data, statistical machine learning, large-scale multiple testing, functional data analysis, statistical decision theory, nonparametric function estimation, as well as applications to financial engineering and genomics.
赵卫星,四川新网银行行长、执行董事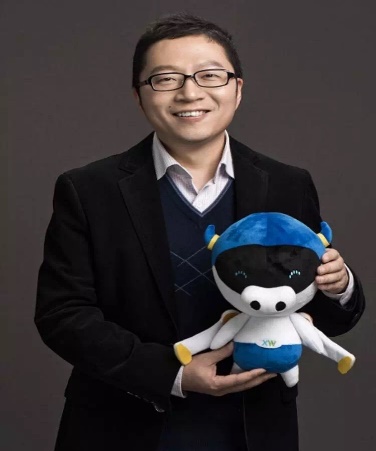 赵卫星先生毕业于上海财经大学,获得应用经济学硕士学位。赵先生曾任职网商银行执行董事、副行长,又出任蚂蚁金服总监,拥有20余年的银行管理和互联网金融经验。赵卫星先生曾在多家银行负责过零售、小微和公司业务,具有丰富的互联网银行创办和管理经验。
四川新网银行简介
四川新网银行是全国三家互联网银行之一,于2016年12月28日正式开业,由新希望集团、小米、红旗连锁等股东发起设立,是银监会批准成立的全国第七家民营银行,也是四川省首家民营银行。新网银行坚持"移动互联、普惠补位"的差异化定位,以及"数字普惠、开放连接"的特色化经营,着力打造成为一家数字科技普惠银行,依托领先的金融科技能力、稳健的大数据风控技术和高效的互联网开放平台运营模式,服务小微群体、支持实体经济、践行普惠金融。
伍军,中铁四局集团公司副总经理
伍军先生毕业于中南大学铁道工程专业,现为中南大学在读博士。教授级高级工程师,中国中铁专家,享受国务院特殊津贴。伍军先生曾参加多项国家重难点工程的建设工作,荣获了中施协科学技术奖技术创新先进个人、第十三届安徽青年科技奖、中国中铁"十大杰出青年"等多项荣誉。
中国中铁四局集团有限公司简介
中国中铁四局集团有限公司是具有综合施工能力的大型建筑企业,是世界500强企业——中国中铁股份有限公司的标杆企业。成立六十多年来,公司先后参与新建、改扩建了100多条铁路干、支线和专用线,建成大型铁路枢纽10余个。同时,公司积极参与国际市场竞争,在20多个国家和地区完成或正在施工铁路、公路等工程百余项。公司为国家级高新技术企业,并建有国家级企业技术中心和博士后工作站,多次荣获"全国优秀施工企业"称号和"全国五一劳动奖状"。